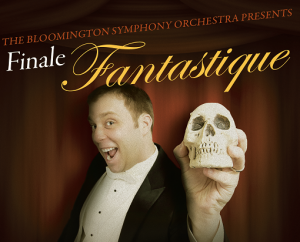 Peter Jacobi
Bloomington Herald Times
4/30/2012
The Bloomington Symphony Orchestra's closing concert of the season was labeled "Finale Fantastique," in reference to the presence on the program of the Symphonie Fantastique by Hector Berlioz. The label, however, could well have been applied to the way the orchestra played that work on Saturday evening at Bloomington High School North. It was praiseworthy and gained a cheers-dotted standing ovation.
Music director Charles Latshaw has done remarkable things with our community orchestra during his five years at the helm. With his own high spirits, he has instilled an esprit de corps that results in performances not only technically improved, a development to be welcomed, but artistically purposeful, more musically informed. Latshaw obviously sees his role as conductor to be the go-between who ties composer to players. And he's managed to do that.
The Berlioz was a case in point. Not all was perfection in the reading. After all, the piece remains a challenge even for the most professional of orchestras. But what one heard was exciting. Latshaw knew what he wanted; so did the musicians. Consequently, the audience fully benefited from one of musical Romanticism's wildest rides, a composer's hallucinatory invasion of a woman's life, she the actress Harriet Smithson that Berlioz saw perform Ophelia in "Hamlet," then madly fall for without having met her. The music palpitates with passion, then weeps and screams his rejection, her murder, and retribution. The BSO caught all the action.
During the intermission that preceded the Symphonie Fantastique, Latshaw had engagingly chatted with the audience, explaining what was to happen. That made the insertion between movements of Berlioz' own words in English translation, arguably unnecessary, even though they were read well by Erik Hitchcock, an actor and the BSO's production manager.
More interestingly, Hitchcock contributed the "To be or not to be" monologue from Shakespeare's "Hamlet," between the two sections of Edward MacDowell's "Hamlet and Ophelia," an 1884 tone poem inspired by theater performances that the composer and his wife saw in London. The music is a lushly orchestrated sample of the late Romantic age. Again, the orchestra played with energy and interpretive sensitivity.